last update: 2022-11-18
Since 1998, Eric released three solo albums and a lot of collaborations with other bands, artists and projects. This is a list of his solo work, going from the most recent releases to older stuff. 
released on YouTube on June 30th, 2021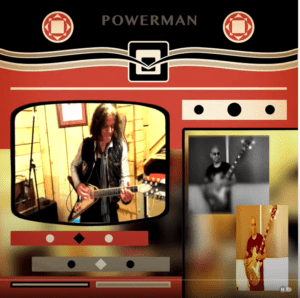 1 Powerman – https://youtu.be/n1TpWsEMSKU
Grammy Award winning drummer David Abbruzzese gathered up some friends for a quarantine jam version of The Kinks Powerman:  Dave Abbruzzese – Drums, Bernard Fowler – Vocals, Benny Goodman – Piano, Organ, Guitar, Shani Kimelman – Guitar, Marcus Nand – Guitar, Carmine Rojas – Bass, Martina Rover – Guitar, Eric Schenkman – Guitar.
Jono Manson, released April 10th, 2020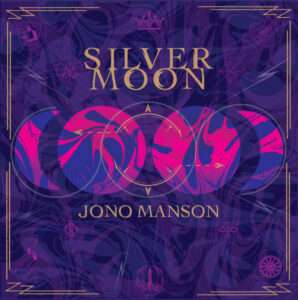 1 Home Again to You
2 Only a Dream (with James Maddock)
3 Silver Moon (with Warren Haynes)
4 Loved Me into Loving Again (with Joan Osborne)
5 I Have a Heart (with Eric Ambel)
6 I Believe
7 I'm a Pig (with Eric Schenkman)
8 Shooter (with Paolo Bonfanti)
9 The Christian Thing (with Terry Allen, Eliza Gilkyson)
10 Face the Music (with Eric McFadden)
11 Everything That's Old (Again Is New)
12 Every Once in a While (with Jay Boy Adams)
13 The Wrong Angel (with Paolo Bonfanti)
Eric plays guitar on track 7 "I'm A Pig".
Diamond D, released March 8th, 2019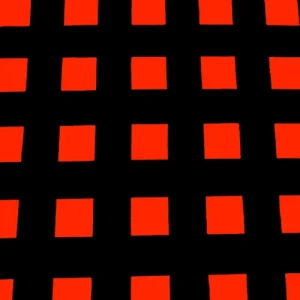 1 Bumping My Head (Re-Recorded)
2 Blackberry
3 Buzzards
4 I'm So Evil
5 Radio Single
6 Slow and Easy (Re-Recorded)
7 Only You (Re-Recorded)
8 Red Roof Inn
9 Already In Love
10 Love of My Life
Track 1 "Bumping My Head" features Eric on guitar.
originally self-released in 2018, re-released by Vizztone Records on January 11, 2019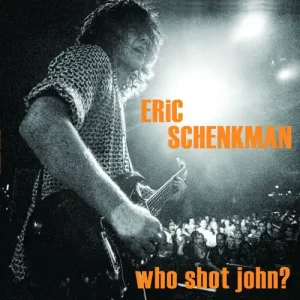 1 I'm Alright
2 Locked in the House All Day
3 Lincoln's Feat
4 Who Shot John?
5 No Pain
6 Sign of the Times
7 Far Away
8 Only a Fool
9 Fortune Teller
10 Agent Orange
Eric'c third solo album.
Vizztone, released February 23rd, 2017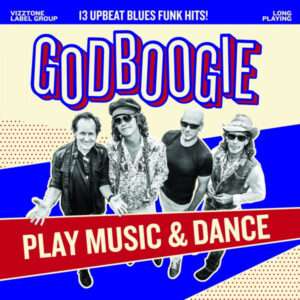 1 Play Music And Dance
2 Honey Badger
3 Wounded
4 It's A Party
5 Kitty
6 So Far Away
7 Sign Of The Times
8 Dragon King
9 The Way To Heaven
10 Real Dude
11 Call On My Love
12 Workshop
13 Tigers, Horses, Kings & Queens
"Toronto-based supergroup featuring singer/harmonica player Jerome Godboo (the Phantoms), guitarist Eric Schenkman (the Spin Doctors), Shawn Kellerman (Lucky Peterson Band) and drummer Gary Craig (Bruce Cockburn band). These world-class, award-winning musicians combine to make GODBOOGIE a totally immersive experience. The music has roots in blues in rock 'n' roll, but defies all the usual pigeonholes." Eric co-wrote the title track and submitted two songs of his that he used for his solo album "Who Shot John?" shortly afterwards, too. But these are different versions than on "Who Shot John?".
Open Hearts Society, released September 1st, 2016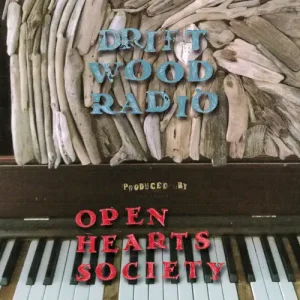 1 I Am Sung
2 Once In A Lifetime
3 Married Man
4 Your Love
5 Corruption
6 Didn't We
7 Easy To Tame
8 Jim
Follow-up to the band's 2011 debut "Love In Time". Eric plays acoustic and electric guitars and sings on a couple of tracks.
released November 11th, 2014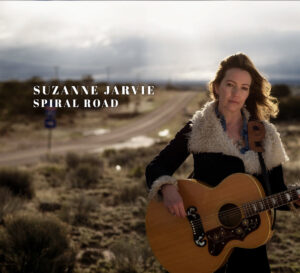 1 Before and After
2 2458
3 Spiral Road
4 Never Gonna Stop
5 Tears of Love
6 Enola Gay
7 Angel of Light
8 Love Is Now
9.Shrieking Shack
10 Wait for Me
11 Before and After (Redux)
Eric is playing guitar on three tracks of this album. 
released September 29th, 2013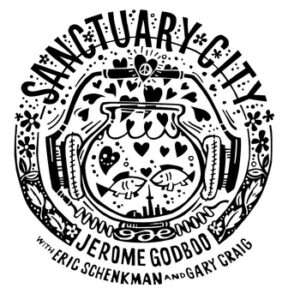 1. Sanctuary City 04:46
2. She's Got The Goods 03:34
3. Jerry Stone 03:02
4. Hidden Things 03:56
5. Lord Show Me How 04:47
6. Mon Amie 03:17
7. October 17 05:07
8. Why Don't You Love Me 03:21
9. New Years Eve 06:40
10. The Blues Travel Thru Me 03:55
11. Fortune Teller 03:20
12. Pollyanna Reed 02:42
Produced, Recorded, and Mixed by Dave Misener. Jerome Godboo – vocals, harmonica, accordian, washboard, singing bowl & shakers. Eric Schenkman – guitars and vocals on Fortune Teller. Gary Craig – drums and percussion.
Gonzo Multimedia, August 2013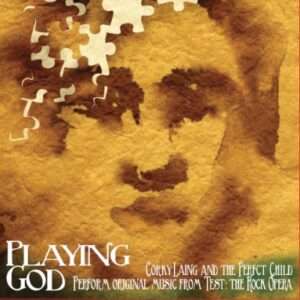 1. God's March
2. Luke's Blues
3. Terrace Of The Gods
4. Perfect Boy
5. Tony's Return
6. College Girls
7. Silent Dream
8. My Brother's Gonna Die
9. Open Up Your Imagination
10. Here Is Our Blood
11. Jupiter
12. Tim's Requiem
13. Not Good Enough
14. Father's Lament
15. Crying Shame
16. Journey
17. Sisterhood
18. Vital Stream
19. Revelations I
20. Meltdown
21. Revelations
22. Eyes In The Mirror
23. Revelations III
24. Mr C's Demise
25. In This World
From the press release: "London, UK – Mountain meets bioethics! Legendary Mountain drummer Corky Laing teams up with two internationally acclaimed philosophers (Prof. Matti Häyry and Dr. Tuija Takala) in this joint effort that brings together '70s style music and contemporary moral problems of gene technology. 'Playing God' is a concept album. 'Playing God' is a musical metaphor for today's attempt to attain perfection. Musically the album covers many feels and approaches from soft ballads to riff-driven guitar rock, from meditative instrumentals to operatic melody lines." Eric Schenkman plays guitar on two tracks.
webstream only, released 2011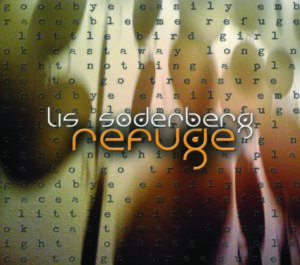 Whyness Of Why
A song Eric wrote about Chico Hamilton (source). Originally titled "Chi-Chi-Chico". Lis Sonderberg released the song on her Reverbnation profile in 2011 along with other songs that appeared on her album "Refuge". She used the "Refuge" album cover for "Whyness" as well, but as far as we know, this track is not released on any album.
independently released in March 2011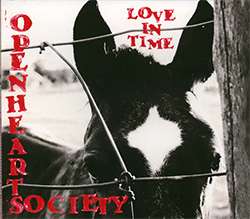 1. Love In Time
2. Lincoln's Feet
3. One Place
4. Only Home
5. Boatbuilders
6. Freedom
7. Pass The Buck
8. Waiting On Love
9. Sarah
"Rural folk boogie" from Eric Schenkman, Chris Brown and Sarah McDermott. Nine songs written and recorded at the old Post Office on Wolfe Island, inspired by Mother Nature and Human Nature. The trio is joined on the album by many near and dear, including drumming legend Anton Fier, Eric's Spin Doctors bandmate Aaron Comess, Kate Fenner, Sarah Harmer, Joan Wasser and many others. Produced by Eric Schenkman and Chris Brown.
United For Opportunity / Fortuna North, released on June 21, 2011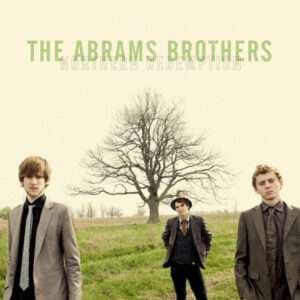 1 Northern Redemption
2 Window
3 Nothing At All
4 Where I'm Bound
5 While You Sleep
6 Thirteen
7 Leaving Love Behind
8 Viva La Vida
9 Planet of Seasons

Eric plays guitar on the song "Nothing At All" which was also the album's single.
released June 17th, 2009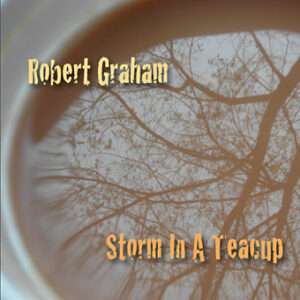 1 Blue Lullaby (Intro)
2 Reaching You
3 Sunshine
4 Set It Free
5 Living In A Coma
6 Don't Go
7 Johnathon Baker
8 In Love With A Girl
9 Second Prelude
10 Set It Free (Afro-Astro Mix)
Eric plays guitar on the track "In Love With A Girl". In fact, he's duetting with Teddy Kumpel. Here's what Robert Graham told The Spin Doctors Archive about the collaboration: "My album was produced by Chris Brown, a well established musician and producer who was friends with Eric and recommended him. He ended up playing on one track called 'In Love With A Girl' otherwise known as 'The Lesbian Song". He duetted with Teddy Kumpel. They both did a fantastic job, creating a real swampy blues feel on the track." 
Universal Music Canada 2005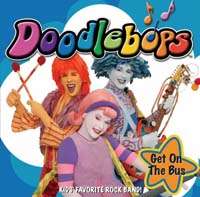 1. We're The Doodlebops
2. The Pledge
3. Get On The Bus
4. Wobbly Whoopsy
5. Look In A Book
6. I Want To Be Bigger
7. Hey Moe
8. The Bird Song
9. Count To Ten
10. Queen For A Day
11. Getting Along
12. My Friend
13. Write A Letter
14. Tap Tap Tap
15. Faces
16. When The Lights Go Out
17. Keep Trying
18. Together Forever
19. We're The Doodlebops (extended version)
"The Doodlebops is a musical comedy series for children that stars Deedee Doodle, Rooney Doodle and Moe Doodle–three multi-talented rock stars who are always on the look out for a good time." Eric is credited as one of two guitar players for this album of kids rock music, although we don't know what tracks he plays on exactly. 
independently released, 12-10-2005

1. Black Soul Woman
2. Can't Trust A Crow
3. Too Sweet
4. Thanks To All The Peolpe
5. Grain Of Sand
6. Where The Wind Witch Resides
7. Cosmic Joke
8. Up & Down, Down & Out Blues
9. Black Cloud
10. Time Waits For No One
11. Ballad Of Ernest Webb
Second album of Toronto based songwriter Mark Taylor. This cd was recorded over a 2 1/2 years in Picton Ontario. Eric Schenkman plays guitar on several tracks, e.g. "Too Sweet" and "Grain Of Sand".
Orbit Room Records, 2003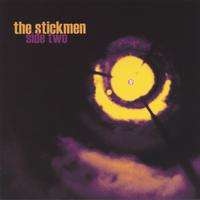 1. 2.3 Eugene
2. Hey Bop A-Rebop
3. A Walk In The Black Forest
4. Hey There She Goes
5. When She Cries
6. Sleepwalk
The Stickman is a Canadian four-piece jam/blues rock band. Eric co-wrote the song "Hey Bop A-Rebop" which is featured on this album, but Eric is not playing on this recording. Instead, Alex Lifeson (of Rush fame) plays guitar on "Hey Bop A-Rebop".
Voiceprint, 2003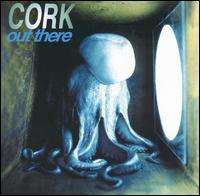 1. Locked In The House
2. Under The Radar
3. Kind Of Love, A
4. She Stands Alone
5. My Turn (Ode To Me)
6. Taking Over
7. Time To Go To Bed
8. Johnny Stick
9. Tender In The Night
10. Separate Joints
2nd Cork album. Cork: Corky Laing (vocals, acoustic guitar, drums); Eric Schenkman (acoustic guitar, electric guitar, bass guitar, background vocals). Additional personnel: Noel Redding (bass guitar). Recording information: Metal Works, Toronto, Canada.
EMI, 2001, re-released 2002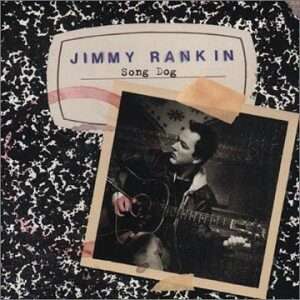 1. Followed Her Around
2. Midnight Angel
3. Drunk & Crucified
4. Lighthouse Heart
5. Wasted
6. We'll Carry On (Prelude)
7. This Is The Hour
8. Tripper
9. Will Carry On
10. You & Me
11. Stoned Blue
12. Captain Harmony
Eric plays guitar on five tracks of this solo debut album by ex-Rankins singer Jimmy Rankin which earned rave reviews when it was released in 2001.
Koch Records, 2001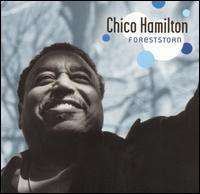 1. Outrageous
2. That boy with that long hair
3. I'm gonna move to the outskirts of town
4. Bone cello
5. Around the corner
6. Soprano dance
7. 11 bars for Arthur
8. Sweet dreams
9. Sorta new
10. Guitar Willie
11. Foreststorn
12. Here comes Charlie now
13. When the saints go marchin' in
14. Foreststorn (Reprise)
Hamiltons first release for the Koch label. Eric plays guitar on the track "Guitar Willie". Other guests on that album are John Popper and Erik Lawrence.
Lightyear Entertainment, WEA, 1999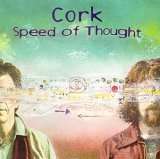 1. Hail Mary
2. Genuine
3. Pull That String
4. Bone Daddy
5. Midnight Rose
6. Waiting
7. Get the Picture
8. Falling
9. My My
10. Sin City
11. In This World
Eric teamed up with Corgy Laing and Noel Redding to perform and record as "Cork". The album was released nearly at the same time as the Spin Doctors' HCTB album.
American Clave, 1997 / In-Acoustic 1998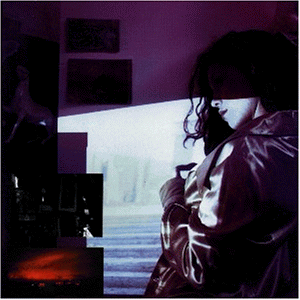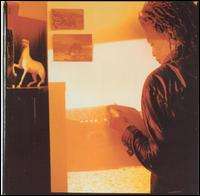 Eric plays guitar on some of the tracks of those releases. There are different releases of the "Shadow Night" albums, and if you check some databases for those albums, you'll find different information about tracklists etc. If you can help with details about Eric working with Kip, feel free to contact us.
Slick Music, 1998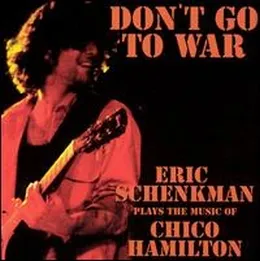 1. Don't Go To War (parts 1&2)
2. Thoughts Of Trane
3. Penthouse A
4. Delightful Charming And Cool
5. Thoughts Of Prez
6. Ain't No Place Like Know Place
7. Ole To Miles
8. What Was The Name Dear?
9. Epiphanee
10. Another Life
11. Don't Go To War (part 3)
Here's the album label's description of "Don't Go To War": "For those of you who are already Eric Schenkman fans, this album shows a side of him you've never heard before. As you know, Eric is one of the premier rock guitarists of the '90s. As a departure from the Spin Doctors, you will be pleasantly surprised by the direction he has taken with this album. Eric's interpretation of these Chico Hamilton songs shows the versatility that few modern rock guitarists have. My hat goes off to Eric for having the vision and the balls to step in this new direction." (Earl Slick of Slick Music, Inc.)
Slick Music, 1998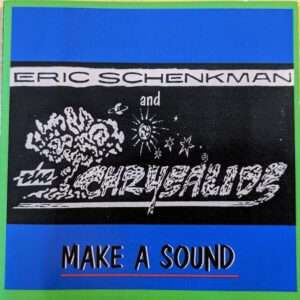 1. Another Day
2. D'Ya Wanna Be In Love?
3. Raining
4. Colours
5. Let Me Be Your Answer
6. What Planet Are You On?
7. Heavy Load
8. Twisted Around
9. Waves
10. Nickels & Dimes
Eric's first solo album, Here's what Slick Music owner Earl Slick thinks about this CD: "Here is Eric in his true form: straight-up rock-a-blues, with a little dash of funk. Even though Eric's success with the Spin Doctors was in the early '90's, his roots date back to the masters, resulting in a style that only Eric can call his own. Add to this his legendary talent as a songwriter and you have Eric at his best – funky-bluesy and to the point. This album, produced by Schenkman and Eddie Kramer of Jimi Hendrix fame, also shows off Eric's prowess as a lead vocalist. In the true tradition of rock 'n' roll you'll find this to be a timeless piece of music."
Elektra, 1995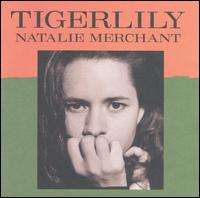 1. San Andreas Fault
2. Wonder
3. Beloved Wife
4. River
5. Carnival
6. I May Know The Word
7. The Letter
8. Cowboy Romance
9. Jealousy
10. Where I Go
11. Seven Years
First solo album from 10.000 Maniacs' singer Natalie Merchant. Eric plays guitar on the track "Jealousy".
RCA, 1995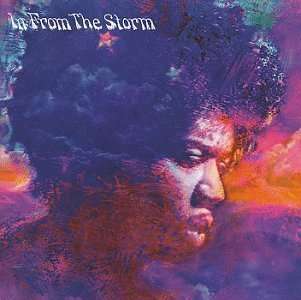 1. …And The Gods Made Love – Doug Pinnick
2. Have You Ever Been (To Electric Ladyland) – Buddy Miles/Doug Pinnick/Steve Lukather
3. Rainy Day, Dream Away – Taj Mahal/Robben Ford
4. The Wind Cries Mary – Sting/John Mc Laughlin
5. Spanish Castle Magic – Sass Jordan/Carlos Santana
6. Little Wing – Toots Thielemans
7. In From The Storm – Corey Glover/Eric Schenkman
8. Drifting – Corey Glover/Steve Vai/Hiram Bullock
9. Bold As Love – Paul Rodgers/Steve Vai
10. Burning Of The Midnight Lamp – Doug Pinnick/Eric Schenkman
11. Purple Haze – Buddy Miles/Bootsy Collins/Bernie Worrell
12. One Rainy Wish – Brian May
Another Jimi Hendrix tribute album, released a few years after "Stone Free". Eric, who just left the Spin Doctors, performs on the title track of this compilation. Produced and engineered by Eddie Kramer. Co-Produced by Brian May. Recorded between August 1994 and June 1995.