to frequently asked questions about songs
1. What is the process of writing a Spin Doctors song?
I think Chris says it best, so here's what he said in a 1996 interview [annotated], "We write in all different combinations in the band except that I am a partner on every song because I write all of the words. So it will be me and Anthony the guitar player [or Eric these days and way back when too], or me and Aaron the drummer, or me and Mark, or a couple of them and me. Sometimes I'll write a song and bring it into the band and they will help me finish it. No matter who wrote the beginning of the song, we always end up at some point in a room together working it out, arranging and finishing it off. Everybody comes up with their own part . . . We write together and share the publishing." So most songs are credited as "written by Spin Doctors", even for songs such as "Forty or Fifty" where the music was written enough be Aaron for most bands to have written, "written by Comess/Barron." Chris explains that the band does this because, "that keeps a band together when you feel you are part of the creative process. It makes the band yours." However, on YGTBIS the songs are noted as written by "Barron/Comess/Krizan/White," but the same concept still holds because these are all of the band members. Most likely this was done because the writing name "Spin Doctors" is registered as the band with Eric.
2. Who are Jono, Jay and Crazy Steve, the guys referred to in "Laraby's Gang"?
Jono is Jono Manson (see People FAQ) and Jay is Jason Richardson, the band's manager.
Dave Mallick adds: I'm 99% sure that "Crazy Steve" is famed photographer Steve Eichner, also known as "Psychner". He was basically THE visual documentarian for the mid 80's/early 90's NYC music scene, and took countless pictures of the Spins, BT, Joan Osborne and others.

3. What's the story behind "What Time Is It"?
In 1988 and 1989 Spin Doctors did several gigs for a Columbia fraternity known as Delta Phi, and this is in fact where the band got their first gig. At one show, at 4:30 in the morning, the band wrote an improvisational song, hence the lyrics "What Time Is It? 4:30. It's not late, naw, naw, it's just early." Most likely there was something playing on a T.V. about some Middle East problems, which would explain the rest of the lyrics. "The spins on me" refers to the meaning of the name Spin Doctors, which are people who work for politicians or for the media to turn ("spin") a story around to make it mean whatever they want. That line in the songs fits in well with any news story, implying that some "spin," as it is called, was used in whatever news broadcast was playing on the T.V. at the time (assuming that this is in fact what happened).
4. Who wrote the lyrics to "Let's Try Again"?

On a 1997 visit to Australia to visit his family, Chris wrote some poetry with his maternal grandmother and "Let's Try Again" is one of those poems.
5. What's the story behind "Sugar"?
(answer provided by Daniel Heinze)
Appearantly, this song has quite a history with the band. Chris Barron came up with the lyrics to this track in the late 90s, and the band tried to record this track several times before finally finishing it and releasing it on "Nice Talking To Me" in 2005. First attempts of recording the track were made in the early HCTB sessions in 1997, but for some reasons, this version never made it to the HCTB album or was played live before 2004. The version that was finally released includes a guitar riff that Eric Schenkman used on a solo record before ("Colours" from the 1998 Eric Schenkman and The Chrysalids' "Make A Sound" album).
Here's what Aaron Comess told The Spin Doctors Archive about this track: "Sugar" was an older song as well from around the time when we were making "Here Comes The Bride". There was a song that me and Chris had and we never did anything with it. There was just this funky groove and those lyrics that he used, but we never did anything with it. Once the band got back together, we kept saying to each other: "We should really bring that in!" We should really just use those lyrics and come up with a whole new funky riff with the band and add a classic Spin Doctors vibe to it..
Actually, at the same period when we were working on "Nice Talking To Me" at my house, we brought in "Sugar". Basically, it was just like: Let's just jam around on a funky groove… Chris started singing the lyrics…
We wanted to make it like some of our old songs: "What Time Is It?" is a good example of a song that came from just jamming around on a riff and finding something. We wanted to make "Sugar" a similar thing – just jam out, just listen to the lyrics and the melody and make it happen. So yeah, maybe Eric was grabbing a riff that he had in his pocket from something else…
In early 2006, JB, the band's webmaster, confirmed that Aaron and Chris worked on a song called "Sugar" back in 1997. Anyway, it wasn't until 2004 that the world was allowed to hear a song called "Sugar" performed by the Spin Doctors – unfortunately, the earlier version(s) aren't available at all.
6. What's the story behind "Miss America"?
(answer by DJE, originally posted on the Spin Doctors message board)
Q: I was just listening to the lyrics of 'Miss America' and wondered what they meant? Is there some american thing I'm missing cuz to me they don't make sense: "Oh Miss America I love you, though we may never meet my name's America too". Maybe I'm not hearing it correctly…any ideas anyone?
A: Yes, I'd say it's an American thing you're missing. I believe the Spins wrote the song exclusively for a book release by American radio personality Howard Stern. His second book was called Miss America. The cover was Howard in drag, spoofing the whole beauty pageant thing.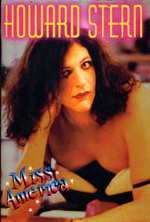 I think the book came out in 1995(?), so it must have been the Krizan line-up. The Spins probably played the song on Howard's radio show a few times to help promote his book. Highlight's from Howard's radio show were always broadcast on the E! channel, so somewhere out there, I bet some Stern fan has video of SD playing Miss America live. As for the exact lyrics, I don't recall them. But, I wouldn't read too much into it. Just a song pretty much written for Howard, maybe it references the real Miss America beauty pageant, too.
7. What about the song "I Must Be The King" – is it a Spin Doctors song?
(answer provided by Daniel Heinze)
" I Must Be The King" is a song written by Chris Barron and Jeff Cohen. Spin Doctors recorded a version of the track during the "Nice Talking To Me" sessions in 2004. Unfortunately, this recording was not included on the album. As far as we know, "I Must Be The King" was never played at Spin Doctors shows. Chris Barron recorded a version of the song for his second solo album "Pancho And The Kid", which was released in late 2006.
8. I heard a version of "Can't Kick The Habit" with strings and stuff that was different from the "Nice Talking To Me" version…
(answer provided by Daniel Heinze)
Well, then you've most likely heard the Chris Barron solo version of the song from his second solo album "Pancho and the Kid", released in 2006 (to be re-released online in January 2008). Originally, Chris wrote "Can't Kick The Habit" with his songwriting partner Jeff Cohen for the "Pancho And The Kid" album. When Spin Doctors decided to record a new album (2004), the track became a part of the Spin Doctors repertoire – it even was the first single off "Nice Talking To Me".
While the SD version of the track has an extended guitar solo, the "Pancho And The Kid" version has a more pop-oriented arrangement including a string arrangement. There's even a third version of "Can't Kick The Habit": it's the same instrumental track as the "Pancho And The Kid" version, but it has different vocals (performed by Jeff Cohen).
more to come…