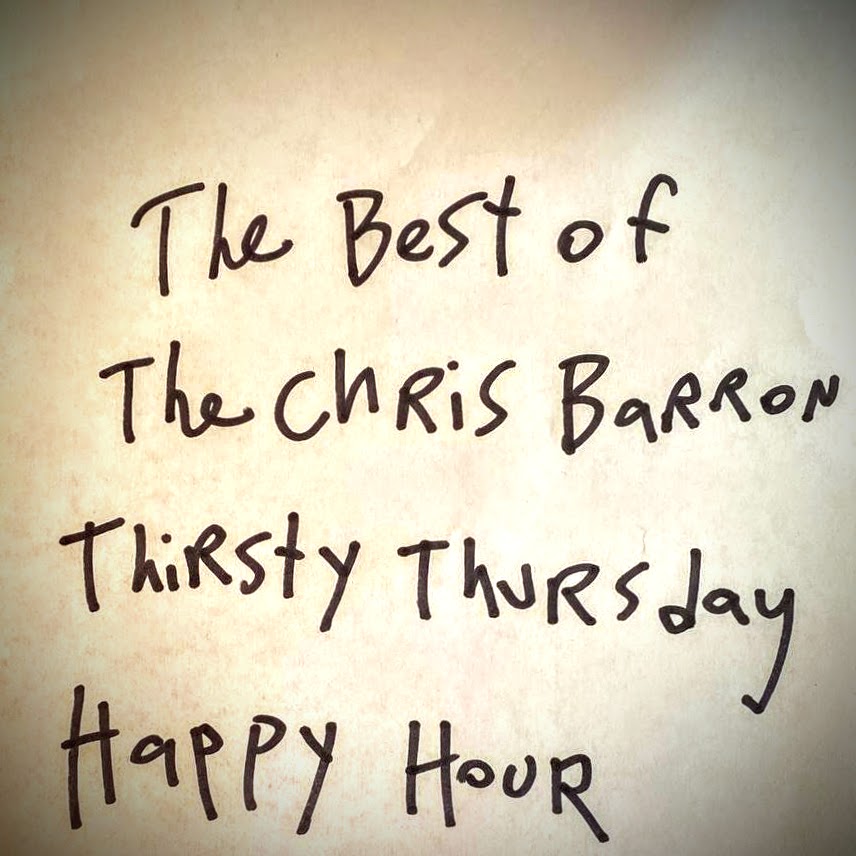 The Spin Doctors Archive proudly presents: The Best Of The Chris Barron Thirsty Thursday Happy Hour; a collection of live performances taken from Chris' weekly webcast show "The Chris Barron Thirsty Thursday Happy Hour" in 2021. Compiled and edited by Daniel Heinze and authorized by Chris Barron who also added an inspring introduction to the collection (see below).
Download "The Best Of The Chris Barron Thirsty Thursday Happy Hour" here for free!
Tracklist:
01 – Intro (Thirsty Thursday Happy Hour Theme Song)
02 – Tomorrow Can Pay The Rent
03 – The Girl Downstairs
04 – Thomas Sweet Rag
05 – Too Young To Fade
06 – All I Know (Is I Love You)
07 – Gone
08 – Can't Kick The Habit (feat. Lindsay)
09 – Everyone Knows
10 – Norma Jean
11 – To You
12 – Needle In My Mind
13 – How Could You Want Him (When You Know You Could Have Me)? (feat. Lindsay)
14 – Every Fool Who Falls
15 – Out Of The Wool
16 – Mabel (100th original song played in the 2021 season of the show)
17 – Sweetest Portion
18 – Oh Daddy
19 – Wow
20 – Piece Of Glass
21 – To Put The Love Of You (feat. Lindsay)
22 – So Bad
23 – The Seat Of Your Pants (feat. Lindsay)
24 – Outro (The Kitten Song)
#####################
An introduction by Chris Barron
#####################
This is a Collection of songs captured by the great Daniel Heinze from a concert series I did online during the great COVID-19 pandemic of 2020 and 2021.
As recordings, these are a bit rough and ready. After all, this was more of a collective effort not to lose our minds than an organized, intentional presentation of performances.
I see this as a musical flotsam and jetsam from the tattered edge of a society at the time, seemingly teetering towards a total breakdown.
The pandemic started for me driving north with Glen Phillips of Toad The Wet Sprocket, toward the a club called The Flying Monkey when we found out our tour was canceled. He'd been telling me as we drove, about an online concert platform called Stageit and I'd been listening thinking, "That sounds cool, but not really my thing." Hours later the pandemic hit, we went home and everybody in the world spent a week or two worrying about securing enough toilet paper and then you can bet your ass I was calling him back asking him "Hey, Glen. What was that online concert thing again?"
It's truly an ill wind that blows no good.
For all we knew, it was the end of the fucking world. And out of the maddening, frightening uncertainty and norm crushing chaos of that insane moment, these concerts arose.
For sure, I was going after something that prioritized musical risk taking over polish and precision and I was gearing the song selection toward bringing novelty to an audience who was tuning in every week over material that was super prepared. This approach culminated in a stretch of shows that wrapped up the series in 2021 where I played about 110 original songs in a row without any repeats.
It's not for me to say what this series of performances meant to other people, but I can say for myself that in a moment as dire as the Covid pandemic of 2020-2021, having this weekly musical task, and a couple hundred people to bring together, even virtually, was like a rock to stand on in the middle of a dark and shifting sea. I don't know what Lindsay and I  would have done without it.
Daniel's selection is certainly not a "greatest hits" type of grouping.
Daniel likes the deep cuts.
Listening down to all of these takes, and trying to listen with his ears, I can hear him hearing the things in my playing that are the things that make me odd, the things that stand in contradistinction to the Chris Barron of Two Princes, pop notoriety: my deeply personal approach to song writing and playing guitar, my very eclectic repertoire of original songs, the archeological layers of my writing over the decades since I wrote my first songs, my deep disinclination to adhere to any boundaries of genre, and my compulsion to fuck around constantly.
Not everyone who does this is lucky enough to have someone like Daniel. I should point out that I was in regular contact with him during this period of time and there's no way I would've been able to remember the existence of a lot of these songs, let alone find recorded versions of them so that I could remember how to play them.
Also, my wife, Lindsay has her fingerprints all over this collection. She sang her ass off every week and was in the room, making the strangeness of playing for a remote audience way less strange. She came up with the idea of recording some canned applause, because, ham that I am, the hardest thing about doing these shows, was finishing a song and having complete silence.
It's with great appreciation to Daniel, Lindsay, and all the people who tuned in that I close this opening. However, these remarks would be incomplete without the solemn acknowledgment of the multitude who were lost in that dark time. Their loss crowds these performances like bright, brittle leaves crowd the reaching branches of trees in November. The Kitten Song at the end of the collection, for example, was written for a Twitter pal named Marta to cheer her up when she had Covid. She died two days later. I finished every show with that song.
This is Daniel's collection but if I could make so bold as to do so, I would dedicate it to her.
#################
Download "The Best Of The Chris Barron Thirsty Thursday Happy Hour" here for free!